Order Now
Magnetic Stripe Test Cards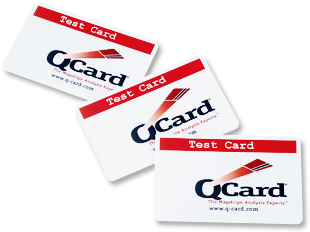 Magnetic test cards are paper or plastic cards with an attached magnetic stripe. The magnetic stripe has either special magnetic characteristics and/or special magnetic patterns are encoded onto the stripe. These cards can be used for testing, calibration, or debugging of magnetic card readers or encoders. Magnetic test cards can also be used to ensure compliance to worldwide ISO card standards, your own internal company standards, or your external client's standards. Q-Card offers test cards individually or in convenient packages for various applications.
Q-Card Test Cards
Each card is permanently serialized

Cards are encoded on a precision transport

Track alignment is closely controlled

Jitter is checked per the ISO/IEC7811-2 and/or ISO/IEC7811-6 standard

Custom Jitter graph is produced for each card

Each card is produced using ISO 2.125-inch x 3.375-inch (54mm x 85.7mm) ID1 PVC base (other sizes and materials optionally available)

Cards are encoded using 75/210 BPI (3/8.3 BPMM standard), 3 track locations (other densities are available)

For testing readers and encoders to ISO/IEC7811-2 and ISO/IEC7811-6

Data encoded is a sequence of the digits 0-9 repeated for the length of the track (custom data can be used upon request)
High or Low Coercivity
High Coercivity or Low Coercivity test cards can be provided with specific:
Jitter

Amplitude

Density

Track Location

Parity Errors

LRC Errors

Special Data Formats
About Jitter and Our Test Cards
About Jitter
Bit-to-bit jitter is a change in bit length from one bit to the next on a magnetic stripe. Ideal cards would have no jitter, but real cards do! Cards with high jitter are generally unreadable, because the decoder electronics in the card reader cannot tell a binary "1" bit from a "0" bit. Precision jitter test cards are ideal for testing readers and encoders. They are also good as standards of comparison when checked against production samples.


Our Test Cards
The jitter test card is encoded on our SE1 Super Encoder with the desired jitter pattern. A serial number is printed on each card. The accuracy of the pattern is then read and verified on our Mag3:Read-Write magstripe analyzer. The SE1 transport can accommodate virtually any size of card up to airline ticket size, 3.25-inch x 8-inch (83mm x 203mm). Unique types of test cards can be produced on special order.

High or low coercivity magnetic test cards can be programmed with specific jitter, amplitude, density, parity errors, LRC errors, etc.