About Q-Card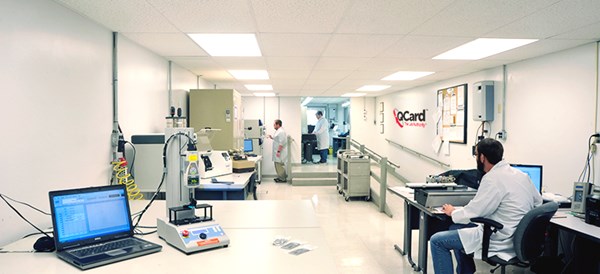 Q-Card™ is one of the most trusted names in the transaction and ID markets. We offer a broad range of expertise in smart cards, mobile payments, EMV, NFC, HCE, magstripe cards and heads, readers, and product development to make your products and systems more reliable.
Q-Card is an ISO/IEC 17025 accredited laboratory, providing third-party testing of cards, tickets, mobile handsets, and wearables as well as brand and EMV debugging and certification services.
We also offer a variety of test tools, equipment, and fixtures for production, research and development, and quality labs to test, debug and validate your payment and ID products. Our products include smartcard analyzers and emulators; magstripe analyzers; dynamic bend and torsion, impact, and opacity testers; chip and magstripe test cards; card-feature verification gauges; secondary reference cards (formerly PTB cards); and magnetic developers.
Q-Card also holds the reference standard for global interoperability of magnetic stripes, and we are ISO 9001 compliant. Our experience in this space has enabled us to become a global provider of products and services, training, and quality consulting to the payment and ID industries with a focus on emerging technologies.