Mag3x Read-Only Magstripe Analyzer
Mag3x Read-Only Magstripe Analyzer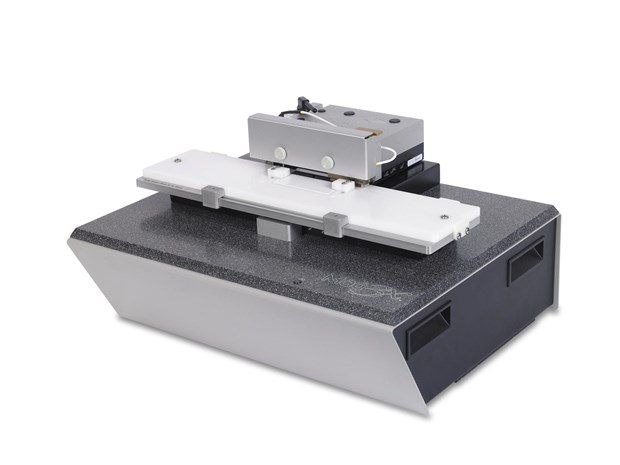 Test all sizes and thicknesses of magnetic media with Q-Card's Mag3x magnetic stripe analyzer. Our Read-Only Model is expressly designed for card manufacturers looking to test pre-encoded cards and tickets at a lower total cost.
Advanced technology in the Mag3x gives users the lowest possible measurement variation available today for testing magnetic stripes. Additionally, a robust design utilizing a low-friction ball bearing slide allows for more accurate transport than analyzers that rely on belts and rollers. The card will not scrape against plastic or metal guides during its motion, which can be a strong source of jitter or other errors.
The Mag3X is the only tester that can be maintained at top performance levels by the end user--no expensive maintenance plans required! It's simply the most accurate and versatile solution on the market.
Features & Benefits
Standard Equipment Provided:
All laboratory-grade testing systems are provided with SpeedPlaten, QuickChange magnetic heads, Windows operating software, USB cable and a user manual. Touchscreens are available upon request.
Features

The most accurate and versatile line of magstripe testers in the world
The only tester that can be maintained at top performance levels by the end user - no expensive maintenance plans
Database ready, with support for database applications
Plug and play USB connection to any Windows PC
Simple graphical displays show pass or fail for each card
Save detailed data on each card for future analysis
Extremely fast 1 million samples per second acquisition rate with 16-bit resolution
Speed platen and Basic mode for production use
Test all sizes and thicknesses of magnetic media, even intact gift cards, raw magnetic tape, cut cards, bank books and all forms of tickets

Benefits

Read-Only Model for testing pre-encoded cards and tickets
Read-Write Model for testing both pre-encoded and un-encoded cards and tickets, as well as raw tape and magnetic materials
Easy Gage R&R Certification with support for the R&R process
Hang Tag Testing - Test Intact, Unbroken Hangtag Sheets
Micrometer Adjustment for Reading Non-ISO Track Locations
Custom Platens to Allow Testing of Non-Standard Cards

Lowest Cost to Own

No machine tear-downs - ever
User-replaceable heads
No card jamming - ever
Easy-to-use reporting
Easy-to-learn software
Expert mode for laboratory use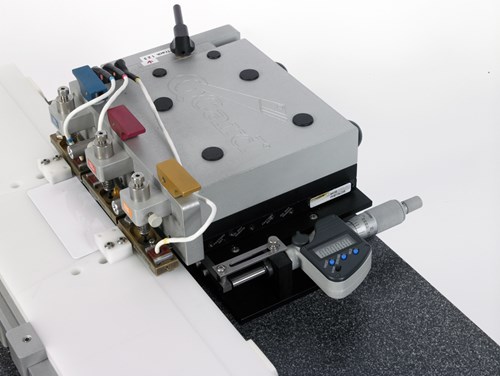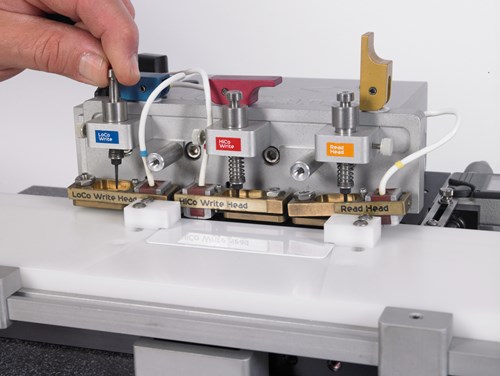 Quick Change Magnetic Heads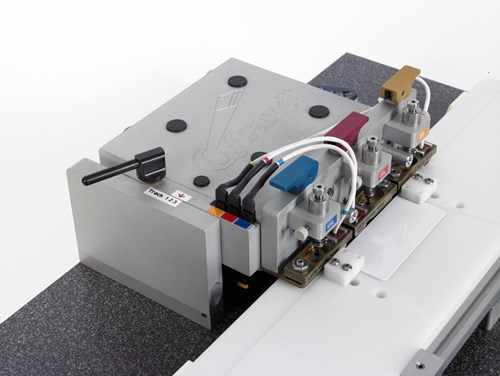 Track Select and Platen Detail
Magnetic Stripe Details
The Mag3x is capable of testing many card layouts, not just single magstripe cards. Below are a few examples: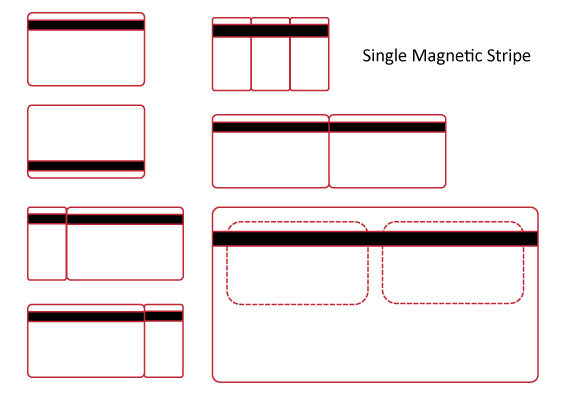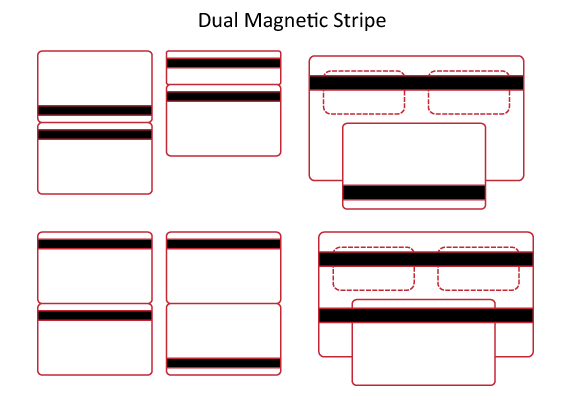 Specifications
Operating Frequency: 50/60 Hz Rated
Voltage (max.): 250 VAC Operating
Voltages: 100, 120, 220/240 VAC
Communications Port: USB 2.0

Environmental Requirements

Operating temperature: 65º to 75ºF (18º to 24ºC)
Relative humidity: 40% to 60%

Encoding, Amplitude Analysis, Etc.

Perform ISO amplitude test of encoded card (vs UR ) with peak, average and standard deviation measurements, absolute amplitude plot and waveform
Perform ISO tables 2, 3, 5, 6 jitter & bit length measurements
Display of track data, ABA (BCD), IATA (ASCII) or ISO-8484 (bank savings books) at various densities, forward or reverse direction
Graph absolute bit length, bit-to-bit and subinterval jitter
Show density, total bits and average jitter for entire track
Show number of leading and trailing zeros
Display parity and LRC errors
Report/graph bit density variations along stripe
Write current is easily selectable over wide range
Write binary 1's or 0's up to 19.6 frpmm (500 frpi)
Use AC or DC erase at various write currents
Encode ABA or IATA data on any track
Reload data at later time for additional analysis
Display raw data for detailed analysis, such as with proprietary or nonstandard formats

Size and Weight

Height: 10.5 inches (26.67 cm)
Width: 19 inches (48.26 mm)
Depth: 15 3/8 inches (39.05 cm)
Weight: 52 pounds (23.59 kg)

Output Capabilities

View results on available color touch screen display
Print all test results in black and white or color
Save results to disk in word processor or spreadsheet format
Save/reload amplitude/waveform to/from disk
Save/reload jitter and density data to/from disk

Other Features

Operator authority password control
Capable of creating tests for custom card specs



Ordering Details
| | |
| --- | --- |
| Part # | Description |
| Mag3x:R/O | Magstripe Analyzer - Read-Only Model |
| Mag3x:R/W | Magstripe Analyzer - Read-Write Model |
| QCA1010 | Q-Start Sentinel Calibration Card - Version 3.0 |
| QCA1002 | Q-Card Amplitude Calibration Card |
| 906169 | Mag3x: R/O Calibration Certification: Factory Service |
| 905893 | Mag3x: R/O Calibration Certification: Do It Yourself Kit |