SWP for UICC
Testing Platforms for Contact Implementation in NFC Mobile Phones
Test platforms with emulation and communication analysis capabilities for validation of contact SWP and ISO7816 interfaces in the NFC implementation in mobile phones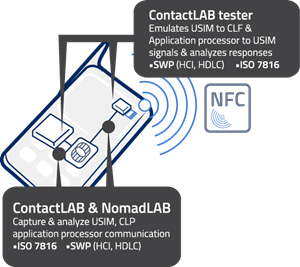 KEOLABS provides test platforms and certification solutions for validating contact aspects of Near Field Communications (NFC) implementation, which may be used in a wide range of application areas including access control, fare collection for public transit and payment to name a few. Supported testing functionalities on these platforms include:
Contact spy and communication analysis between USIM and the CLF, or USIM and the phone's application processor
Contact signal emulation to test the phone's CLF or the USIM
Platforms allow validation of the range of technologies implicated in today's NFC systems for communication between the phones application processor, USIM and the Contactless Front End (CLF) components including the SWP (HCI/HDLC) and ISO7816 contact protocols. Platform configuration and control can be done via a dedicated software interface (RGPA - Real Time Protocol Analyzer), or scripting (Python, JScript, ...) that allows users to define and execute sequences of signals in specific, automated scenarios.
In addition, the combination of contactless and contact test platforms covering NFC, SWP and ISO7816 in a single offer, provides everything that component manufacturers, handset manufacturers, software developers and other NFC solution implementers require for interoperability testing and certification of NFC objects, systems and solutions.