Rob5x Laboratory Test Automation Platform
5 Axes for Optimum Flexibility & Control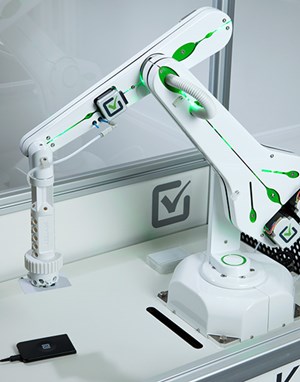 Rob5x is a complete installation adapted specifically to the constraints and needs of in-house design labs.
Optimized encumberment, noise characteristics and a security housing make it an ideal test automation platform for safe and easy physical automation of contactless testing.
All of the Advantages
Precise trajectory & position control
Vacuum pick-up for batch handling of cards & tags
Engineered for minimal influence on contactless communications
Easy-to-use COM ActiveX interface
Safe, secure, lab-ready installation provides years of rigorous testing and trouble-free service.
A Complete, Lab-Ready Installation
To meet the challenges of testing contactless smart cards, readers and NFC systems, KEOLABS provides the Rob5x robot installation which, in combination with KEOLABS' test platforms, facilitates device validation and pre-certification testing by providing:
Improved repeatability where physical manipulation of the device under test is required
Unmatched positioning and movement control to keep pace with the latest test standards
Improved lab throughput, notably when batch testing contactless cards and tags
Rob5x adapts easily to test smart objects in various formats and can be delivered with adaptations for cards and tags or more cumbersome devices such as NFC mobile phones. Card testing installations may include automation features such as a vacuum pick up and predefined placements for tested devices to support batch testing.
The 5-Axis Advantages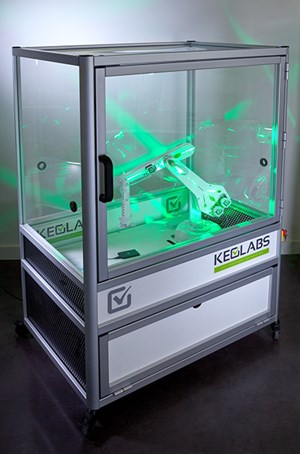 Rob5x with 5 axes of movement control provides increased flexibility in controlling the position of the device under test. Position controls include the device's planar orientation (tilt, yaw) and rotation.
The Rob5x COM ActiveX programming interface allows the user to easily define multiple trajectories and orientations of the device under test in a way that is both precise and repeatable time and again.
Test Tool and Solution Integration
Rob5x complements KEOLABS' ProxiLAB and ProxiSPY realtime laboratory emulation and measurement tools, making it possible to conduct testing such as interoperability verification, RF field strength mapping and dynamic field entry testing in a manner that is precise, systematic and repeatable.
Rob5x also integrates SCRIPTIS standard-specific solutions for testing device conformance including solutions for ISO 10373-6 and ICAO conformance testing.