Order Now
Resistance to Heat Test Fixture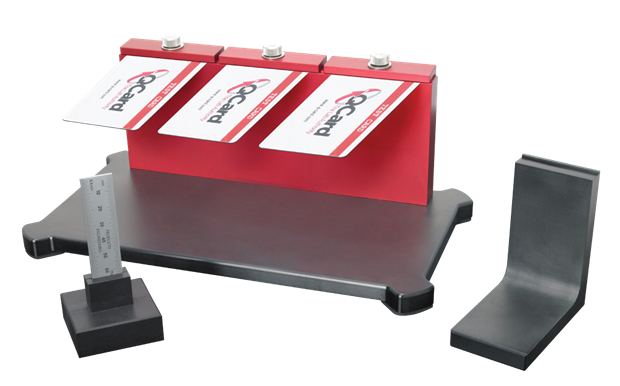 Q-Card's resistance to heat test fixture allows testing of three cards at one time. A card's ability to resist heat is determined by exposing the cards to certain climatic conditions over time, then measuring the mechanical deformation caused by the influence of gravity.
Q-Card's resistance to heat fixture features splayed feet and aggressive no-slip rubber pads for optimum stability. It is manufactured of aerospace-grade aluminum alloy with a hard anodized, scratch-resistant, durable finish to provide years of rigorous testing and trouble-free service.
The test fixture includes the card clamping stand, a card stop gauge to provide the precise cantilever dimension and a movable stainless steel scale for precision accuracy.
Features & Benefits
Features

Tough, aerospace-grade aluminum alloy card placement fixture
Stable base
Rubber non-slip feet
Card clamping system
Weight
Accurate, high-quality scale

Benefits

Tests three cards at one time
Easy to use
Simple weight application and release
Ensures cards meet ISO, CQM, and ANSI standards
Details
Mastercard CQM

10.1.5 R-L3-15-2 Resistance to Heat

13.2.1.21 TM-411 Resistance to Heat

Mastercard CQM

5.1.10 Heat Resistance

10.3.10 Heat Resistance

16.1.10 Heat Resistance

Test Method Reference P-10

ISO/IEC

ISO/IEC 7810 Resistance to Heat

ISO/IEC 10373-1 Resistance to Heat
Dimensions