Order Now
ISO Certified* RM-7811 Calibration Cards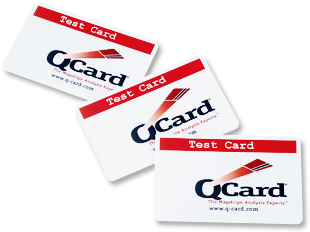 For Magnetic Stripe Applications (Secondary Reference Cards)
Q-Card magnetic calibration cards, also known as secondary reference cards, contain a magnetic stripe that produces a known amplitude at saturation. These cards can be used to calibrate magnetic stripe analyzers, which are needed to verify quality during the manufacturing process of cards and tickets with magnetic stripes, such as credit cards, hotel key cards and transit tickets.
Features & Benefits
Features

High coercivity or low coercivity
Standard ISO ID-1 size
Q-Card/PTB* calibration

Benefits

Ensures accurate, ISO-qualified magstripe testing
Easy to calibrate at your own facility
*Q-Card has transferred the technology used to produce the official magnetic stripe reference cards from Physikalisch-Technische Bundesanstalt (PTB), which has ceased to offer these services.
Details
RM-7811-2 Calibration Card Loco

Low Coercivity Calibration Card
Q-Card/PTB* Calibrated
ISO ID1 size

RM-7811-6 Calibration Card Hico

High Coercivity Calibration Card
Q-Card/PTB* Calibrated
ISO ID1 size

When to Use Test Cards

Test cards are valuable for:

Calibrate signal amplitude of magnetic stripe test equipment
Calibrate the encode current of magnetic stripe test equipment