3 Wheel Tester Mechanical Stress Card Testing
Two Axes 3-Wheel Test Tool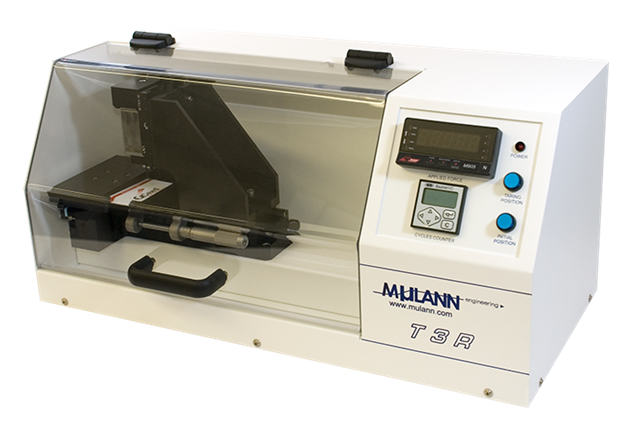 The Three-Wheel Tester is primarily designed for testing the resistance of smartcard IC chips to pressure. The T3R-E version is able to test any ID-1 cards including contactless cards and offers as an option a unique feature for querying the transponder of the card under test at each cycle, helping the analysis of test failures.
Complies with ISO/IEC 24789-2 standard and CQM v2.15 specifications (TM-421 test method) for:
Chip and atenna inlay method
Quality control / production control of smart card
Durability tests
Benefits
Benefits

Easy-to-use with a 3.53 touch-screen pad
Extended test zone with a micro-metric bearing
Pre-adjusted zero position (center of the chip card module) and initial position to start cycle
Intuitive software for operating mode and configuration mode
Durable, long-lasting design
Ensures cards meet CQM standards

Options

2nd set of weights for additional ranges of pressure 1
Electronic weight detector 2
Contactless ISO14443 A & B
failure detector 3
Extra storage memory (not removable)
External Wi-Fi module 4 (*requires the Ethernet card)
Rod for 43 mm stroke to cover the complete card length (Option installed at manufacturing)
Full maintenance contract 6
Specifications
User Interface

3.5" touch-screen interface with remote Ethernet access




Card Axis

Longitudinal and transversal
User Interface
3.5" touch-screen interface with remote Ethernet access
Card Axis
X position: up to 38mm with flipped card
Y lengthwise stroke: 40mm
Applicable Force
8 or 15N (optional : 10, 12, 20 & 25N)
Weight 13 Kg
Power Supply 100-230V AC 50/60Hz
Dimensions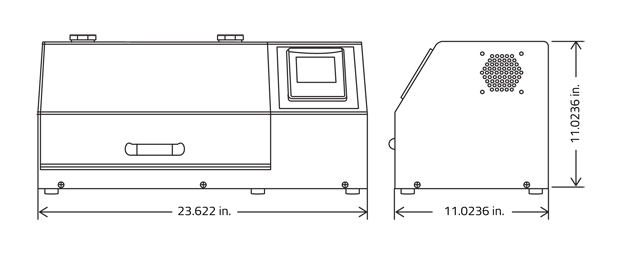 Notes
Note 1: The second set of weights includes one 4N, one 5N and one 10N weights for enabling additional accurate tests at 10N, 12N, 20N and 25N through combinations with standard weights. The tared (T-5N) weight shall always be present and place at the bottom for ensuring an accurate pressure value.
Note 2: The weight detector displays weight configuration on HMI for misconfiguration and pressure selection logging in the ATR.
Note 3: The contactless failure detector, query the transponder card under test (Request All command only) at each cycle and stop the test when the card
fails responding.
Note 4: Wi-Fi IEEE802.11b/g 54Mbps module, 20Mbps effective data rate over Ethernet port powered by an external 5V DC pack.
Note 5: The position helper is a label where markers have been positioned on a sticker label for helping the X positioning. For example, it locates the center of the smart card contact area when the card is return face down and the contact area no longer visible
Note 6: Full maintenance contract is subscribed after the warranty period and can be renewed annually up to 10 years maximum. Uninterrupted full maintenance contracts include annual checking and adjustments, software releases and defective pieces replacement.