Solutions for Public Transit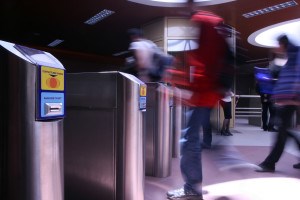 Convergence is a common term we hear in public transit today. Convergence of payment schemes such as open and closed loop, account-based, cloud-based/mobile ticketing, EMV, NFC, HCE; and convergence of payment systems such as public transit, bike share, parking, tolls and more. So how do you make it all work, whatever payment preference may be and whatever the preferred mode of transit?
Q-Card works with the world's transit authorities, system integrators, device manufacturers and ticketing vendors to ensure efficient and reliable operations of mass transit systems. Our experts can work with you and your vendors to develop test specifications, plans and procedures and then perform the necessary testing to validate fare media, validators and payment systems.
Mobile and Contactless Testing

Consulting
Fare Media Selection
Validator Specification
Test Planning
Interoperability
System Analysis
Quality Control
Improved Reliability
Testing
Contactless Cards
Contactless Readers
Mobile Ticketing
Debugging
Certification Testing
EMV/NFC/HCE
Physical Card Testing
Interoperability Testing
Standards
ISO/IEC 14443-1
ISO/IEC 14443-2
ISO/IEC 10373
Cipurse™
CEN/TS 16794
EMVCo
ISO/IEC 7810/11/16
Cipurse is a trademark of the OSPT Alliance
Test Tools and Equipment for Transit
For Quality labs and research and development
Q-Card also offers a variety of test tools, equipment and fixtures for precertification, debugging and validation of fare media and readers.
Cipurse™
EMV
Contactless Card Contactless Readers
Mobile Wallet/NFC/HCE
Durability Card Test Equipment
Magnetic Stripe Analyzers